ATTENTION
The item or item variation you chose is not in stock. By continuing, you accept to place an order at Landsknecht Emporium for said item or item variation with an estimated production schedule of 6 months.
Details
Similar products
Info
Details
Karl falls between Gottfried and Günther in terms of handling and balance- it is a good starting piece for the adepts of Messer fencing.
This Langes Messer with a type M5b blade is available in two options: sharp and blunt. The sharp is perfect for cutting tests and solo drills, whilst the blunt is suitable for sparring with its 2.5mm-3mm thick edges. The cross on this piece is type XV, Nagel is N5B and the pommel less grip is in the shape of a CC1 pommel.
The blade and the hilt accessories are hand-ground; the blade from a blank of 6150/51crv4 steel and the accessories from mild steel.
The blade of this Messer type may feature a slight negative curve.
The Nagel is a separate piece peened on the other side of the quillon block, as it should be. The quillons are slid downwards from the tip with the blade protruding in the bottom. Depending on the exact quillons we made, this protrusion may be ground flat or may be peened as seen on several originals. This seemingly strange direction of assembly is present on several original pieces. Another feature taken from historical pieces is the quillon block expanding a bit onto the grip.

The handmade grip slabs are affixed by gluing and a row of peened tubular brass rivets.
Please be advised; slight variations and differences may occur in the products due to their hand-made nature and the organic materials used.
The products aim to have the aesthetics of historical pieces, not the finish of mass-produced items. Each product bears the signs of its making; small tool marks and imperfections, which do not affect the build quality or usability but give each of our pieces its unique character.
The weapon is a practice Messer for sparring and technical drills, perfect for Historical European Martial Arts (HEMA).



WORLDWIDE SHIPPING.
For more information, please click HERE

For non-registered users, NET Prices are shown(i.e. Excluding VAT). For registered users, after login, GROSS Prices are shown (i.e. including VAT) with the applicable VAT content. VAT percentages are determined based on the shipping and billing address of the user. If you are a registered VAT payer and/or eligible to pay the net prices otherwise, contact us via email at info@landsknechtemporium.com before filing an order.
Landsknecht Emporium Kft. is not responsible for any kind of damage or injury caused by careless or negligent use or misuse.
Similar products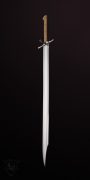 Info
Blade width at the base
32 mm