ATTENTION
The item or item variation you chose is not in stock. By continuing, you accept to place an order at Landsknecht Emporium for said item or item variation with an estimated production schedule of 6 months.
Details
Similar products
Info
Details
Just like Messers, Bauernwehrs also come in all shapes and sizes and are able to fulfill several roles because of this. While the archetypal Bauernwehr has a knifelike blade best suited for cutting and a bolster that gets more elaborate as time goes by, several had blades much more optimized for thrusting with minimal or no bolsters.

Our take on these simpler Bauernwehrs has a nearly symmetrical, 207mm long blade hand-ground from 6mm thick 6150 steel. While it is definitely sharp and can handle simple cutting tasks, the cross-section is designed with mainly the thrust in mind.

The Nagel is of type N2b and is decorated with chiseled lines. It goes directly through the wooden grip slabs and is peened on the other side.
The grip slabs are made of Mahaleb cherry and are affixed by gluing and large tubular brass rivets.

The sheath is hand-sewn from vegetable-tanned leather and is decorated with a simple geometric pattern.


Please be advised; slight variations and differences may occur in the products due to their hand-made nature and the organic materials used.
The products aim to have the aesthetics of historical pieces, not the finish of mass-produced items. Each product bears the signs of its making; small tool marks and imperfections, which do not affect the build quality or usability but give each of our pieces its unique character.
The weapon is a practice Bauernwehr for test cutting and technical drills, perfect for Historical European Martial Arts (HEMA) and reenactment.



WORLDWIDE SHIPPING.
For more information, please click HERE

For non-registered users, NET Prices are shown(i.e. Excluding VAT). For registered users, after login, GROSS Prices are shown (i.e. including VAT) with the applicable VAT content. VAT percentages are determined based on the shipping and billing address of the user. If you are a registered VAT payer and/or eligible to pay the net prices otherwise, contact us via email at info@landsknechtemporium.com before filing an order.
Landsknecht Emporium Kft. is not responsible for any kind of damage or injury caused by careless or negligent use or misuse.
Similar products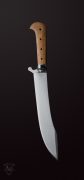 Info
Blade width at the base
31 mm