ATTENTION
The item or item variation you chose is not in stock. By continuing, you accept to place an order at Landsknecht Emporium for said item or item variation with an estimated production schedule of 6 months.
Details
Similar products
Info
Details
Rondel daggers are a staple of fencing manuals- they are widely represented, even after their popularity started to dwindle.




There is a huge variation of the rondel daggers, as their size ranges from compact, delicate pieces to weapons that could easily be seen as short swords.It allows for a lot of creative freedom while designing this particular style of dagger.




Our interpretation is loosely based on antique daggers from the early 16th century. While the originals often had full-steel hilts, we opted for walnut for this iteration. The lower rondel is slightly smaller than the upper one, and has a projection bent towards the blade. Apart from it, Sigmund is our first blunt dagger for HEMA practice!


The blunt blade is hand-ground from 8mm thick 6150 steel with a short ricasso and a subtly hollow-ground cross-section. The tip is left at almost full thickness in part to simulate the reinforced points of some originals, and in part to ensure that the blade is safe during drills.
The tang is peened over a separate peen block on the upper rondel.
This is a handmade item, so variations and imperfections may occur.
We follow the philosophy of design from the past- hardly any weapons were made pristine. They bore signs of swordmaker's tools, hours of filing and hard work which makes for a unique signature of the maker, and their relationship with the weapon they forge. It means that our pieces are unique, and no two weapons are the same.
The weapon is a practice dagger for solo practice and 
technical drills, perfect for Historical European Martial Arts (HEMA) and reenactment.



WORLDWIDE SHIPPING.
For more information, please click HERE

Prices are in EUR and include VAT (27%). If you are a registered VAT payer and/or eligible to pay the net prices, contact us via e-mail at info@landsknechtemporium.com before filing an order.
Landsknecht Emporium Kft. Is not responsible for any kind of damage or injury caused by careless or negligent use or misuse.
Similar products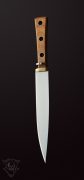 Info
Blade width at the base
27 mm